"Planting" This Green: "In Yiqi · Blue Sky Responsibility
  Spring is warm in March, and we are busy planting trees together.
  Recently, on the occasion of the 44th Tree Planting Day, under the guidance of the Department of Natural Resources of Shandong Province, the "Blue Sky Responsibility" Cloud Tree Planting Action sponsored by the Internet Media of Shandong Province was launched.Gu Xin, chairman of PUSR IOT, led and called on all employees to actively participate in this cloud tree planting activity. Through the adoption of saplings in the cloud and the planting and maintenance of offline specialists, PUSR IOT public welfare forest was built to help the Alashan Desert build a green barrier and a life defense line to protect our blue sea and sky.
  Wulanbuhe Desert is one of the three deserts in Alashan Desert, which is close to the Ningmeng River of the Yellow River and has a great impact on the ecological environment of the Yellow River Basin.This tree planting activity is not only the protection of green environment and green ecology by PUSR IOT, but also the response to the national strategy of ecological protection and high-quality development in the Yellow River Basin, which highlights the green public welfare concept and social responsibility of "human" development.In this cloud tree planting activity, the company's employees actively participated in the adoption of 50 Haloxylon ammodendron trees, and donated and planted them in the Alashan Desert in the name of PUSR IOT, contributing to desertification control and greening transformation in the western region.
  Finally, in order to promote the spirit of public welfare and advocate public welfare actions, the company issued a certificate of honor for employees participating in this activity, in order to encourage employees to participate in public welfare activities and practice the responsibilities and responsibilities of young people in the new era with practical actions.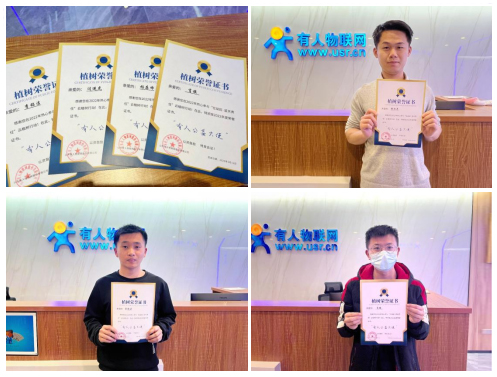 Green development is everyone's responsibility. At present, the construction of ecological civilization in China has been promoted in an all-round way, and the concept that green mountains are golden mountains and silver mountains has been deeply rooted in the hearts of the people. In order to better promote the implementation of sustainable development strategy and build an ecological security barrier, PUSR IOT will continue to pay attention to desertification control and sandstorm control in the western and northern regions, and maintain the natural ecological security boundary.At the same time, PUSR IOT will also vigorously promote the green transformation of production and lifestyle, develop a green economy, and help build a beautiful China.